Calgary & Edmonton Mobile App Development
Home » Mobile App Development
Providing Big Agency Mobile App Development Services with Small Agency Fees

Offering custom mobile application development services tailored to your business' needs. Whether you need a smart, business app to manage your day-to-day operations, or a consumer app to promote your products and services, we've got you covered.
From concept and design to development and launch, our team takes the time to understand the ins and outs of your organization. Our focus is to create a platform that is responsive to the unique requirements of your business. Packed with all the features you use and none of the ones you don't.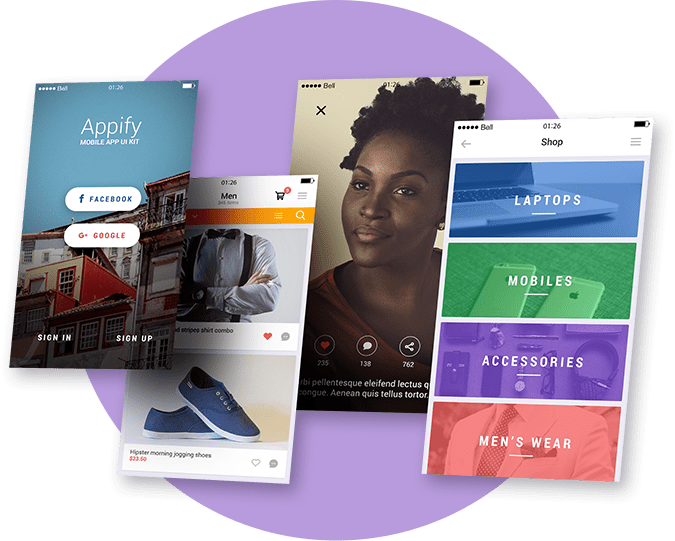 Business management apps
Providing smart, custom mobile app development to help you manage your business, employees, sales and grow your operations.
Our business mobile apps can help you keep an eye on all the important aspects of your operations. They can ensure you never miss key information. A business app can be a digital clock in/out system for your employees, and allow them (and you) to keep track or work ours. Or, it can be an inventory management system with always-updated information about the products and equipment you have in stock. Your business app can also be used to create work orders, assign projects, upload documents and manage field trades. Whichever operation (or combination of) you need, can be incorporated into your custom business app to give you a complete business management solution.
B2C mobile app development in Calgary and Edmonton
With over 70 percent of the global population relying on mobile devices to access the Internet by 2025, the potential for businesses to reach their target market with mobile apps dramatically rises.
Remaining as competitive as possible in the 21st century means launching custom mobile apps that are marketable. Intuitive mobile apps can improve your company's branding and open a two-way communication channel. They allow you to become more accessible to your current and potential clients.
If potential customers are unable to understand an app within a few seconds of downloading, chances are they will automatically delete the app and find another one that is easier to manage. Our team's job is to deliver a powerful app to keep your on-the-go customers engaged. Also to anticipate potential issues in order to provide an optimal user experience. Our goal is to deliver a successful mobile app that offers a user-friendly interface and allows users to interact effortlessly with the app.
Now offering Android, iOS and hybrid app development. Our mobile app developers excel in creating simple, yet intuitive apps that are effortlessly navigable, user-friendly and engaging.
Original and striking designs
Let us help you grow and ensure your business' long term success.
Contact us today to discuss your mobile app project.